Some news and information for our Supporters Club members.
Everton will refund supporters for remaining 2019/20 fixtures
"Everton has confirmed all fans with tickets for the Club's remaining five home Premier League fixtures of the 2019/20 season will be able to claim a refund due to the increasing expectation that – should the remaining games be played – they will take place behind closed doors.

Season Ticket Members will be entitled to a credit or refund on a pro-rata basis for the five games and will also be given the option to forgo part or all of their balance in order for the Club to donate that amount in full over to Everton in the Community."
Full details: https://www.evertonfc.com/news/1669759
Everton face coverings on sale
"Everton and its Official Retail Partner, Fanatics, are to launch a range of reusable face coverings to help support COVID-19 relief efforts, with all Everton proceeds from the sales being donated to the Community's Blue Family campaign." They are £15 for a pack of 3.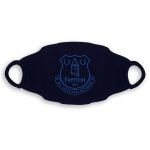 Full details: https://evertondirect.evertonfc.com/stores/everton/en/product/3-pack-face-coverings—multi/294109?portal=YVA6D7K6&CMP=PSC-YVA6D7K
Blue family support
"You can help Everton in the Community to support the most vulnerable, socially isolated and at-risk members of society during the COVID-19 pandemic. This form is for you to let Everton in the Community know about a vulnerable person who may need a friendly voice to speak to at this difficult time. In addition to a phone call, Everton in the Community staff may also be able to assist those vulnerable and in isolation within the Liverpool area with food deliveries, prescription drop-offs and other support services."
Full details: https://www.evertonfc.com/bluefamily/referral
Fan of the year
"It's time for you to provide your nominations for this season's Fan of the Year.
The honour aims to celebrate Evertonians who go above and beyond in their support for the Blues.
All through this and every season, thousands upon thousands of Evertonians dedicate their time and make huge sacrifices to support their Club – including those who travel all over the country.
Fans have also been heavily involved in fundraising campaigns as well as offering generous contributions of time and money to Everton in the Community. So, at the end of each campaign, the Club calls on fans to nominate a member of the Goodison faithful to be recognised as the number-one Blue.
If you think you know someone who deserves to be rewarded, we want to hear from you!"
Full details: https://www.evertonfc.com/news/1674401/nominate-your-fan-of-the-year
Stay safe